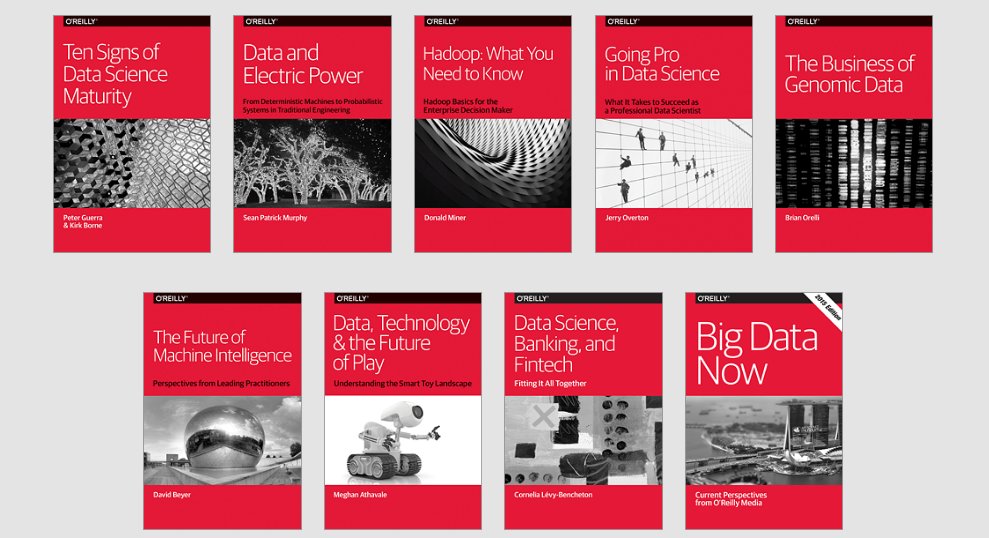 O'Reilly Media – Free Data Report Archive
Dive deep into the latest in data science and big data, compiled by O'Reilly editors, authors, and Strata speakers.
Educating Data: Using Data Science to Improve Learning, Motivation, and Persistence Building Real-Time Data Pipelines Data Preparation in the Big Data Era Fast Data: Smart and at Scale Private and Open Data in Asia: A Regional Guide Managing the Data Lake 2015 Data Science Salary Survey Evaluating Machine Learning Models Data Analytics in Sports Data, Money, and Regulation Fashioning Data: A 2015 Update Music Science Mapping Big Data Data and Social Good The Last Mile of Analytics Navigating the Health Data Ecosystem Oil, Gas, and Data The Security Data Lake Real-World Active Learning Understanding the Chief Data Officer Hadoop Virtualization Data Science in the Cloud with Microsoft Azure Machine Learning and R Data Driven Women in Data
Ten Signs of Data Science Maturity Data and Electric Power Hadoop: What You Need to Know Going Pro in Data Science The Business of Genomic Data The Future of Machine Intelligence Data, Technology, and the Future of Play Data Science, Banking, and Fintech Big Data Now: 2015 Edition
Cloudera Impala Business Models for the Data Economy The Culture of Big Data On Being a Data Skeptic Real-Time Big Data Analytics: Emerging Architecture Analyzing the Analyzers Introduction to Online Payments Risk Management Disruptive Possibilities
Data: Emerging Trends and Technologies 2014 Data Science Salary Survey Innovation, Security, and Compliance in a World of Big Data Fast Data and the New Enterprise Data Architecture Fashioning Data Migrating Big Data Analytics into the Cloud The Information Technology Fix for Health Big Data Now 2013
Read the full article, click here.
---
@strataconf: "All O'Reilly data reports available to download at any time: #bigdata #datascience"
---
An archive of all O'Reilly data reports is available below for free download. Dive deep into the latest in data science and big data, compiled by O'Reilly editors, authors, and Strata speakers.
---
O'Reilly Media – Free Data Report Archive