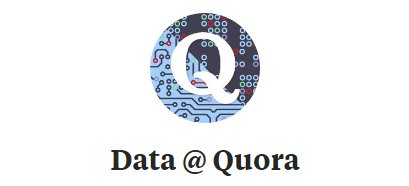 Applying Deep Learning to Detecting Duplicate Q…
In our previous Data blog post, we announced Quora's first dataset release, which was a set of over 400,000 duplicate question pairs.
Following up on that, we just posted on our Engineering Blog an outline of how we think about the machine learning problem of detecting duplicate questions.
Duplicate questions are pairs of questions that semantically have the same meaning.
By using machine learning tools, we can solve this natural language processing (NLP) task and detect duplicate question pairs in a scalable, automated manner.
For more details on how we frame this problem and three deep learning approaches we explored for solving it, please check out our post on Quora's Engineering Blog: "Semantic Question Matching with Deep Learning."
In our previous Data blog post, we announced Quora's first dataset release, which was a set of over 400,000 duplicate question pairs. Following up on that, we just posted on our Engineering Blog an outline of how we think about the machine learning problem of detecting duplicate questions. Duplicate questions are pairs of questions that semantically have the same meaning. By using machine learning tools, we can solve this natural language processing (NLP) task and detect duplicate question pairs in a scalable, automated manner. For more details on how we frame this problem and three deep learning approaches we explored for solving it, please check out our post on Quora's Engineering Blog: "Semantic Question Matching with Deep Learning." This exploration was a collaboration between members of our data science and engineering teams: Hilfi Alkaff, Shuo Chang, Kornél Csernai, Nikhil Dandekar, and Lili Jiang.

@Quora: Applying Deep Learning to Detecting Duplicate Questions on Quora –
In our previous Data blog post, we announced Quora's first dataset release, which was a set of over 400,000 duplicate question pairs. Following up on that, we just posted on our Engineering Blog an outline of how we think about the machine learning problem of detecting duplicate questions.

Duplicate questions are pairs of questions that semantically have the same meaning. By using machine learning tools, we can solve this natural language processing (NLP) task and detect duplicate question pairs in a scalable, automated manner. For more details on how we frame this problem and three deep learning approaches we explored for solving it, please check out our post on Quora's Engineering Blog: "Semantic Question Matching with Deep Learning."

This exploration was a collaboration between members of our data science and engineering teams: Hilfi Alkaff, Shuo Chang, Kornél Csernai, Nikhil Dandekar, and Lili Jiang.