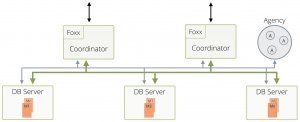 ArangoDB 3.0 new Cluster features – ArangoDB
June 22, 2016 0 1 cluster , Releases , Replication
Grow your cluster as your data grows
With the release of ArangoDB 3.0 the cluster will feature synchronous replication.
After creating such a replicated collection writes to that collection will then be synchronously distributed across your cluster.
We were getting a lot of questions regarding how to setup a cluster in different environments and with earlier releases it was very hard to deploy a cluster in a different environment than on our supported cluster environments.
Read the full article, click here.
---
@weinberger: "ArangoDB new Cluster features.
The missing puzzle piece: DC/OS
#dcos #mesos #nosql #graphDB"
---
The 3.0 release of ArangoDB will introduce a completely overhauled cluster and marks a major milestone on its road to "zero-maintenance" where you can keep focus on your product instead of your datacenter.
---
ArangoDB 3.0 new Cluster features – ArangoDB