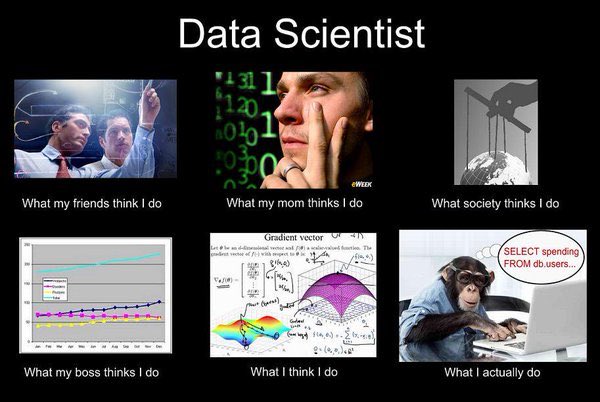 Be sure to check out The Definitive Q&A for Aspiring Data Scientists and the story of my journey from Astrophysics to Data Science .
The entry was posted in Big Data , Data Science , Products , Training and tagged Analytics , Big Data , Data Mining , Data Science , Data Visualization , Machine Learning on February 8, 2015 by Kirk Borne .
One of the most important roles that we should be embracing right now is training the next-generation workforce in the art and science of data.
There are many skills under the umbrella of data science, and we should not expect any one single person to be a master of them all.
One of the most important roles that we should be embracing right now is training the next-generation workforce in the art and science of data. Data Literacy is a fundamental literacy that should be imparted at the earliest levels of learning, and it should continue through all years of education. Education research has shown the value of using data in the classroom to teach any subject — so, I am not advocating the teaching of hard-core data science to children, but I definitely promote the use of data mining and data science applications in the teaching of other subjects (perhaps, in all subjects!). See my "Using Data in the Classroom Reading List" here on this subject.

@KirkDBorne: Are you interested in #BigData #DataScience and a #DataScientist career? Start here:
One of the most important roles that we should be embracing right now is training the next-generation workforce in the art and science of data. Data Literacy is a fundamental literacy that should be imparted at the earliest levels of learning, and it should continue through all years of education. Education research has shown the value of using data in the classroom to teach any subject — so, I am not advocating the teaching of hard-core data science to children, but I definitely promote the use of data mining and data science applications in the teaching of other subjects (perhaps, in all subjects!). See my "Using Data in the Classroom Reading List" here on this subject.

I encourage you to read a position paper that I wrote (along with a few astronomy colleagues) for the US National Academies of Science in 2009 that addressed the data science literacy requirements in astronomy. Though focused on the needs in astronomy workforce development for the coming decade, the paper also contains more general discussion of "data literacy for the masses" that is applicable to any and all disciplines, domains, and organizations: "Data Science For The Masses."

Two new "…For Dummies" books can help in those situations, to bring data literacy to a much larger audience (of students, business leaders, government agencies, educators, etc.). Those new books are: "Data Science For Dummies" by Lillian Pierson, and "Data Mining for Dummies" by Meta Brown.  And here is one more that I believe is an excellent data literacy companion: The Data Journalism Handbook.

I was recently asked five questions by Alex Woodie of Datanami for the article, "So You Want To Be A Data Scientist" that he was preparing. He used a few snippets from my full set of answers. The longer version of my answers provided additional advice. For aspiring data scientists of all ages, I provide here the full, unabridged version of my answers, which may help you even more to achieve your goal. (Note: I paraphrase Alex's original questions in quotes below.)

My number one piece of advice always is to follow your passions first. Know what you are good at and what you care about, and pursue that. So, you might be good at math, or programming, or data manipulation, or problem solving, or communications (data journalism), or whatever. You can do that flavor of data science within the context of any domain: scientific research, government, media communications, marketing, business, healthcare, finance, cybersecurity, law enforcement, manufacturing, transportation, or whatever. As a successful data scientist, your day can begin and end with you counting your blessings that you are living your dream by solving real-world problems with data. I saw a quote recently that summarizes this: "If you think your scarce data science skills could be better used elsewhere, be bold and make the move." (Reference).

There are many skills under the umbrella of data science, and we should not expect any one single person to be a master of them all. The best solution to the data science talent shortage is a team of data scientists. So I suggest…