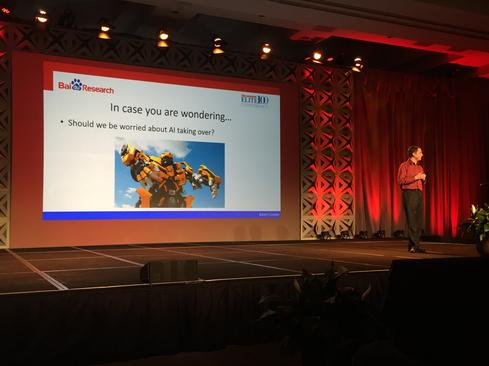 Artificial Intelligence: Don't Fear It, Embrace It
Many intermediary steps had to be taken to teach machine learning systems.
"We're seeing the point at which data-driven deep learning systems are starting to overtake systems that we've engineered ourselves," said Coates. "
But traditional machine learning hit a wall, Coates said.
But Coates insisted that the technology to realize the malevolent AI systems depicted in movies doesn't exist at present.
Adam Coates, director of Baidu Research's Silicon Valley AI Lab , isn't worried about artificial intelligence taking over the world.
Adam Coates, the director of the Baidu Research's Silicon Valley AI Lab, says don't fear artificial intelligence. Instead, look to it to save lives. He spoke at the InformationWeek Elite 100 Conference this week.

@Ronald_vanLoon: Artificial Intelligence: Don't Fear It, Embrace It | #BigData #Artificialintelligence #RT
Adam Coates, director of Baidu Research's Silicon Valley AI Lab, isn't worried about artificial intelligence taking over the world.

"I will tell you why I am not actually afraid of AI right now," he said at the InformationWeek Elite 100 Conference in the Four Seasons Hotel in Las Vegas on Tuesday, May 3. "I don't go around seeing every Camero on the street thinking that's a Transformer. I know what's under the hood. It's self-evident the technology is just not capable of doing something like that today."

Not everyone in the audience was entirely convinced there's no need for fear.

Earlier in the day, an audience member had read a quotation from Stephen Hawking expressing concern, about the potential risk posed by AI. But Coates insisted that the technology to realize the malevolent AI systems depicted in movies doesn't exist at present.

"I want you to stop worry about killer AI robots," Coates said. "I want you to start worrying about all the positive impacts AI can have for you and your companies."

To help the audience understand the current excitement about AI among leading technology companies, Coates reviewed the history of machine learning.

The promise of machine learning, Coates explained, was that it would enable people to create systems that learned how to make decisions without those systems being explicitly programmed to do so.

But traditional machine learning hit a wall, Coates said. Additional processing power and data did not improve machine learning tasks beyond a certain point. As a result, many intermediary steps had to be taken to teach machine learning systems. That added time and expense to projects.

"There are lots of things in the world that the machine learning algorithm just can't learn on its own," Coates said.

[Read more from the InformationWeek Elite 100 Conference.]

Instead of trying to engineer better results by augmenting machine learning systems with interim processing modules, researchers have found that deep learning systems, which rely on neural network technology, can deliver better results through data and computational power than through engineering. Best of all, data and processing power can scale upward in a way that teams of domain experts cannot. Thanks to mobile devices, data that's useful to deep learning systems is being generated at an ever growing rate.

"This is actually very exciting, because it means we can change our entire strategy about how we approach machine learning problems," Coates said, stressing that neural networks should not be seen as efforts to rival human intelligence.

There's now a relatively straightforward path to improving AI systems for tasks such as image recognition, speech recognition, and translation: Just add more training data and more CPU/GPU processing. That has significant implications for how businesses can use AI for customer service, fraud protection, and the like.

"We're seeing the point at which data-driven deep learning systems are starting to overtake systems that we've engineered ourselves," said Coates. "There's an incredible potential for AI to do a lot of good."

Thomas Claburn has been writing about business and technology since 1996, for publications such as New Architect, PC Computing, InformationWeek, Salon, Wired, and Ziff Davis Smart Business. Before that, he worked in film and television, having earned a not particularly useful … View Full Bio