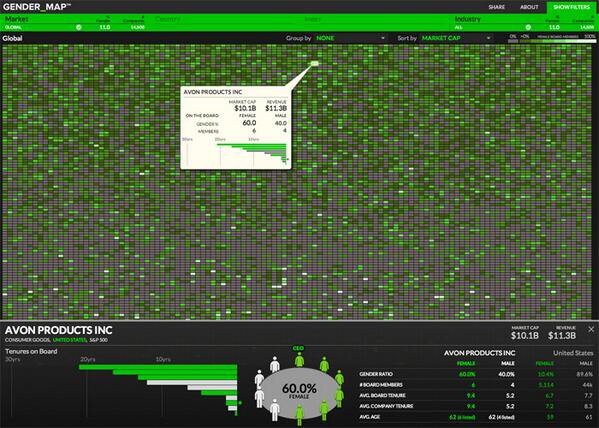 Born out of the Gender Gap software, Gender Map is a dynamic representation of how many women are found in boardrooms across the world, showing the discrepancies that still exist in the highest echelons of business.
Gender Map renders a world-view of over 14,000 publicly traded companies, allowing users to filter by market, country, index and industry.
We design and build interactive software that turns data into graphically delightful informative experiences.
Clicking on a box will bring up a detailed graphic of board members, including gender and tenure, as well as the company's market cap and revenue.
Software for reporting, benchmarking and modeling workforce diversity within an organization.
Read the full article, click here.
---
@StephanieJNeal: "#Bigdata on Gender Diversity: Interactive #dataviz of women in #business #HR via @2nfo"
---
TWO-N is an award-winning boutique data visualization agency. We design and build interactive web apps that turn data into graphically delightful and informative experiences.
---
Gender Map – TWO-N