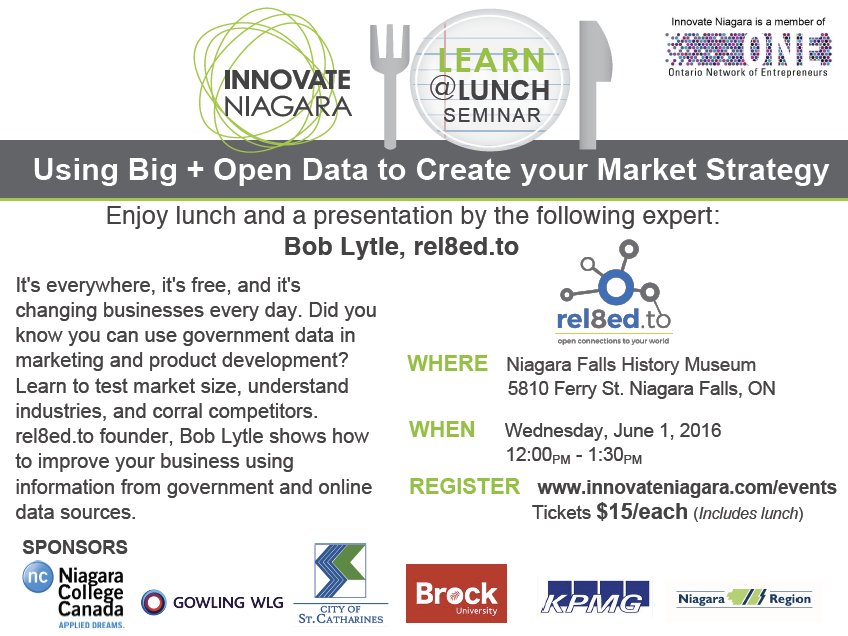 Innovate Niagara Learn@Lunch: Using Big + Open Data to Create your Market Strategy Tickets, Wed, 1 Jun 2016 at 12:00 PM
Log in or sign up for Eventbrite to save events you're interested in.
Innovate Niagara Learn@Lunch: Using Big + Open Data to Create your Market Strategy
Your email will only be seen by the event organizer.
Wed, 1 Jun at 12:00 PM , Niagara Falls, ON, Canada
When Wednesday, 1 June 2016 from 12:00 PM to 1:30 PM (EDT) – Add to Calendar Where Niagara Falls History Museum – 5810 Ferry St., Niagara Falls, ON L2G 1S9, Canada – View Map View Map Tags Niagara Falls, ON Events Networking Business
Read the full article, click here.
---
@InnovateNiagara: "Find out how #BigData #OpenData can inform your marketing strategy! June 1st #LearnAtLunch:"
---
Eventbrite – Innovate Niagara presents Innovate Niagara Learn@Lunch: Using Big + Open Data to Create your Market Strategy – Wednesday, 1 June 2016 at Niagara Falls History Museum, Niagara Falls, ON. Find event and ticket information.
---
Innovate Niagara Learn@Lunch: Using Big + Open Data to Create your Market Strategy Tickets, Wed, 1 Jun 2016 at 12:00 PM