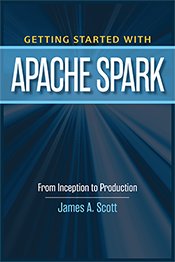 Getting Started with Apache Spark
In-depth use cases for Spark (including running code)
Getting Started with Apache Spark From Inception to Production
Apache Spark is a powerful, multi-purpose execution engine for big data enabling rapid application development and high performance.
Jim Scott wrote an in-depth ebook on going beyond the first steps to getting this powerful technology into production on Hadoop.
Read the full article, click here.
---
@KirkDBorne: "Get started with #ApacheSpark — download @MapR's free interactive ebook
by @kingmesal #SPARK"
---
Get maximum value from big data deployments with solutions from a wide range of Hadoop ecosystem participants. Download or browse applications here.
---
Getting Started with Apache Spark