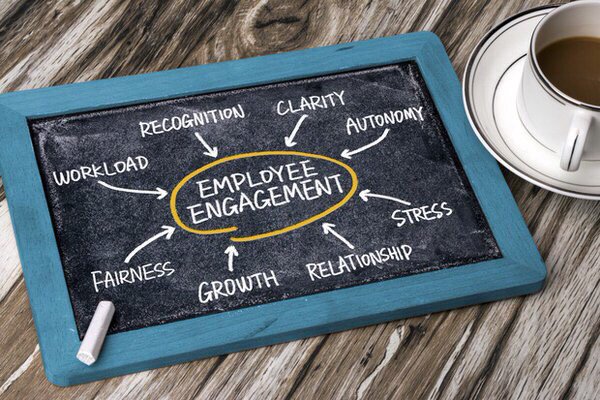 How big data can drive employee engagement
Sandhir points out that employee engagement is connected to customer satisfaction.
Employee engagement not only affects a company internally, it can seep out and negatively affect business outside of the organization.
"We think the voice of the employee is missing in the workplace today," says Sandhir.
Johnson says the company found success with getting employees on board with HighGround's software by making it as easy to use and accessible as possible for employees.
Sandhir says that annual reviews are often watered down, because the employee might not want to offend anyone or the person they're unhappy with might be the same person conducting their review.
Big data has reshaped businesses in many ways, and now it's even changing the way HR monitors employee engagement to improve both retention and customer satisfaction.


@StephanieJNeal: How big data is changing the way #HR drives employee engagement #bigdata via @CIOonline
What if your HR department could use data to not only predict employee engagement, but also know when an employee might be looking to jump ship? That's what Vip Sandhir, founder and CEO at HighGround, aims to do with his company's latest employee engagement products. By creating systems that mine data directly from employees, the goal is to provide business leaders with better — and ongoing — insights into the weaknesses and strengths within the organization.

Using big data for performance evaluation allows companies to look at real-time data, rather than just annual reviews. This way, it's easier to get an idea of the larger picture of how happy and engaged employees are across the organization. Sandhir says that annual reviews are often watered down, because the employee might not want to offend anyone or the person they're unhappy with might be the same person conducting their review.

"We think the voice of the employee is missing in the workplace today," says Sandhir. By offering a more interactive, streamlined daily process that measures employee's happiness and unhappiness, businesses can get better insights into where problems lie to avoid high turnover.

"We put the platform in everyone's hands, and we allow managers and employees to interact in a more continuous manner. On a daily basis, you might get a question asking how you feel at work today. So what our application does, is it starts to create a continuous dialogue with the employee," says Sandhir.

[ Related Stories: How Prudential Annuities CIO sparked a talent transformation ]

Minimizing flight risks

Retaining talent is difficult, and it becomes even more difficult if that talent becomes resentful or unhappy in a negative working environment. Unhappy employees can lead to high turnover, which affects the business from every angle. For one company, Echo Global Logistics, HighGround's service made a significant difference in its "flight risk," minimizing turnover by 5 percent, which lead to increased productivity, customer retention and overall cost savings, Sandhir says.

"As companies add new leaders, people, techniques and different reactions, the system will learn as you go," says Sandhir, "It becomes a method of two-way communication between manager and employee, which is key to gain insights into the overall success of the company from every employee." He points to the increased two way communication this type of software can encourage, which can give business leaders and executives the overall picture of the company.

For example, some clients have installed this software across every retail store to take daily data on employee moods. "We've seen circumstances where stores have had very stable moods, and then over a very small period of time you'll see that mood sort of drop, and we've seen companies investigate and tie that back — in some cases — to a particular new leader that was installed in that location."

Echo Global Logistics says the service encourages employees and management to recognize the hard work they do. The company notes that this engagement has been important because the company grew quickly. To avoid any fallout from fast growth, the leaders wanted to retain the sense of community and culture within the organization.

"HighGround, which internally we refer to as Echo Engage, allows employees to recognize their colleagues for doing great work or helping them out. It also allows managers to make sure their employees do actually appreciate the work that they do by making it easy to give quick shout outs for just about anything," says Cheryl Johnson, senior vice president of talent at Echo Global Logistics.

Customer feedback drives training

However, it's not just employees who can go into the system to leave kudos and recognition. Customers also have the opportunity to leave feedback. In turn, says Johnson, that customer feedback helps drive employee training, engagement and allows leaders to find what the business is doing right and areas it might need to improve.

While engagement is great when it's about positive recognition, the software can also unveil weak spots. For companies that can pinpoint the exact cause of unhappiness within a department or office location, it's possible to save money by keeping employees from quitting just to get away from one person. That problem can be addressed on an individual level, saving time, energy and money in the long run.

Ultimately, employee engagement not only affects a company internally, it can seep out and negatively affect business outside of the organization. Sandhir points out that employee engagement is connected to customer satisfaction. If you have happy employees, you'll have happier customers as a result. And getting a watered down picture of employee satisfaction just once a year through performance reviews won't be enough to find problems before they start.

While implementing new technology like engagement software sounds great in theory, companies need to ensure employees actually adopt and use the software. Johnson says the company found success with getting employees on board with HighGround's software by making it as easy to use and accessible as possible for employees. Workers can simply install a mobile app on their phone that Johnson says is as simple as using the mobile Facebook app. It's allowed employees to quickly adopt the system and see the benefits of this type of personal reporting.

While Echo Global Logistics has seen improvements in expected areas such as engagement and establishing a cohesive company culture, the benefits have extended beyond that, says Johnson. She says that two surprising areas where they saw improvement through HighGround included visibility into "hidden talent within our organization," as well as "rich customer feedback."

If you look at how business operations have changed thanks to technology, it makes sense that it would also change the way HR oversees employee engagement. Sandhir also points out that the traditional performance review process is somewhat of a feedback loop. Most of the conversation becomes filtered through the lens of the manager or leader. Any potential bias that is there is going to become part of the overall review. "The key here is you have to set up a safe place for employees where their voice is heard and the organization can understand the impact of that sentiment."