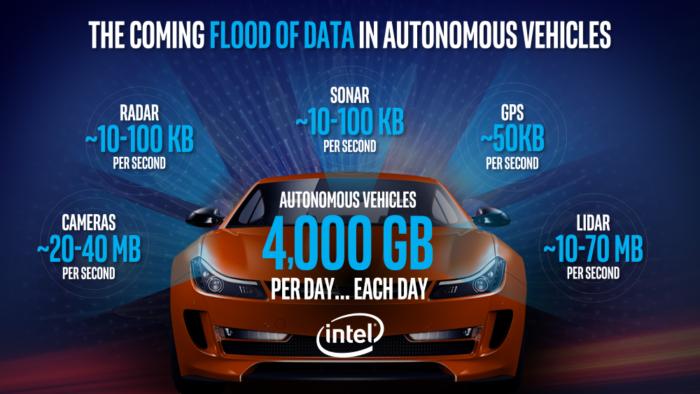 Just one autonomous car will use 4,000 GB of data/day
Vehicles will generate and consume roughly 40 terabytes of data for every eight hours of driving, according to Intel CEO Brian Krzanich, speaking at the auto show's technology pavilion, Automobility.
The averagely driven car will churn out 4,000 GB of data per day, he says.
"Each car driving on the road will generate about as much data as about 3,000 people," Krzanich says.
Krzanich splits the continually changing intelligence into three data sets:

The car will have to learn about such things as cones in the road and other hazards, which Krzanich calls technical data.

Without data, your self-driving car "will have to deal with the world in a very manual way," Krzanich says.
Autonomous cars will soon create significantly more data than people—3 billion people's worth of data, according to Intel.

@Ronald_vanLoon: Just one autonomous car will use 4,000 GB of data/day | #BigData #Business #RT
Two real-life, practical, semi-autonomous vehicle launches next year are an indication that the self-driving car is really happening.

Audi is expected to make its up-to-35-mph hands-free driving system available late next year in some 2018 vehicles.

And Volvo will start testing Drive Me, an autopilot that will introduce 100 Swedish XC90 owners to autonomous driving, according to an Automotive News supplement produced for the Los Angeles Auto Show last month.

Two mega-strides forward. But if you're impatient and wondering why it's taking so long for car makers to offer full autonomy, as in eye-free driving, one clue is in the data. The amounts of datasets that need to be produced and then shared in real time to make it all work are absolutely staggering.

Vehicles will generate and consume roughly 40 terabytes of data for every eight hours of driving, according to Intel CEO Brian Krzanich, speaking at the auto show's technology pavilion, Automobility.

There is a "flood of data that's coming," he told the automotive industry professionals. And it's going to be significantly more than the amount of data that the average person generates today.

The averagely driven car will churn out 4,000 GB of data per day, he says. And that's just for one hour of driving a day. One can compare that to an average person's video, chat and other internet use, which Krzanich says is about 650 MB per day and will escalate to 1.5 GB per day, or essentially double, by 2020.

Why so much data?

One reason for the car's appetite is the hundreds of on-vehicle sensors. Cameras alone will generate 20 to 40 Mbps, and the radar will generate between 10 and 100 Kbps, Intel says.

"Each car driving on the road will generate about as much data as about 3,000 people," Krzanich says. And just a million autonomous cars will generate 3 billion people's worth of data, he says.

Maps are just one example of the incoming data a car will need, and those maps won't be a one-time Google map download, as one can perform now. They will have to be extremely detailed and timely—down to the nearest inch. They will be used for lane control and road hazards, among other things, so they will need to be continuously updated.

"You're going to have to have data as much as any other kind of propulsion," Krzanich says.

Krzanich splits the continually changing intelligence into three data sets:

The car will have to learn about such things as cones in the road and other hazards, which Krzanich calls technical data.

There will also be societal data, also called crowd-sourced data. It includes an automatic version of platforms such as Waze, for example. Waze is a community-based traffic awareness app that is heavily reliant on crowd-sourced traffic reports.

Personal data will make up the third classification. That includes locations and stop time..

Without data, your self-driving car "will have to deal with the world in a very manual way," Krzanich says. "Data is the next oil."