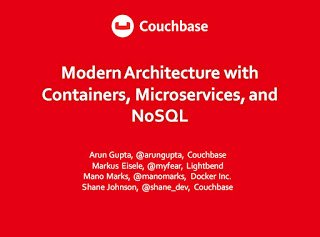 Modern Architecture with Containers, Microservices, and NoSQL
The relevant aspects for a successful microservices architecture are plenty and not easily to be achieved by using a single framework.
14:19 Sunday, May 15, 2016 Posted by Markus Eisele container , microservices , NoSQL
Shane finished the presentation part of the webinar with an overview about the capabilities of the Couchbase server and how it supports application modernisation and microservice base architectures.
Read the full article, click here.
---
@myfear: "[blog] Modern Architecture with #Containers, #Microservices, and #NoSQL"
---
---
Modern Architecture with Containers, Microservices, and NoSQL