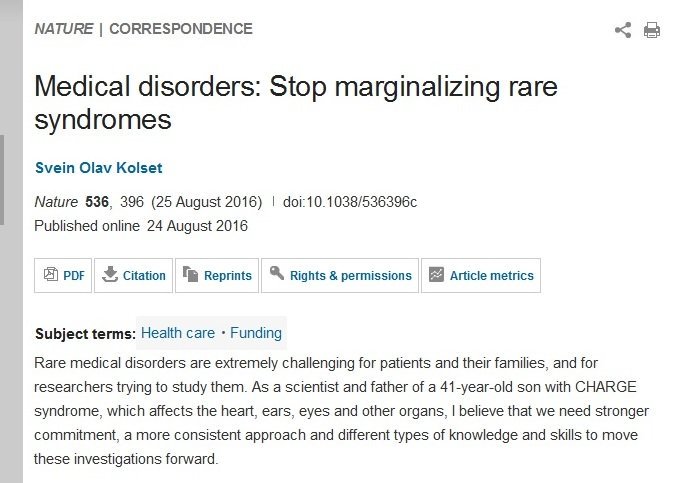 Medical disorders: Stop marginalizing rare syndromes : Nature : Nature Research
Medical disorders: Stop marginalizing rare syndromes
© 2016 Macmillan Publishers Limited, part of Springer Nature.
Rare medical disorders are extremely challenging for patients and their families, and for researchers trying to study them.
Promising initiatives include the International Rare Diseases Research Consortium and European Union projects on rare disorders under Horizon 2020.
Journal name: Nature Volume: 536 , Page: 396 Date published: (25 August 2016) DOI: doi:10.1038/536396c Published online 24 August 2016
Read the full article, click here.
---
@Primary_Immune1: "#RareDisease Research & Lives Matter! #SNRTG #BigData #science #DNA #CuresNow @NatureNews"
---
Rare medical disorders are extremely challenging for patients and their families, and for researchers trying to study them. As a scientist and father of a 41-year-old son with CHARGE syndrome, which affects the heart, ears, eyes and other organs, I believe that we need stronger commitment, a more consistent approach and different types of knowledge and skills to move these investigations forward.
---
Medical disorders: Stop marginalizing rare syndromes : Nature : Nature Research