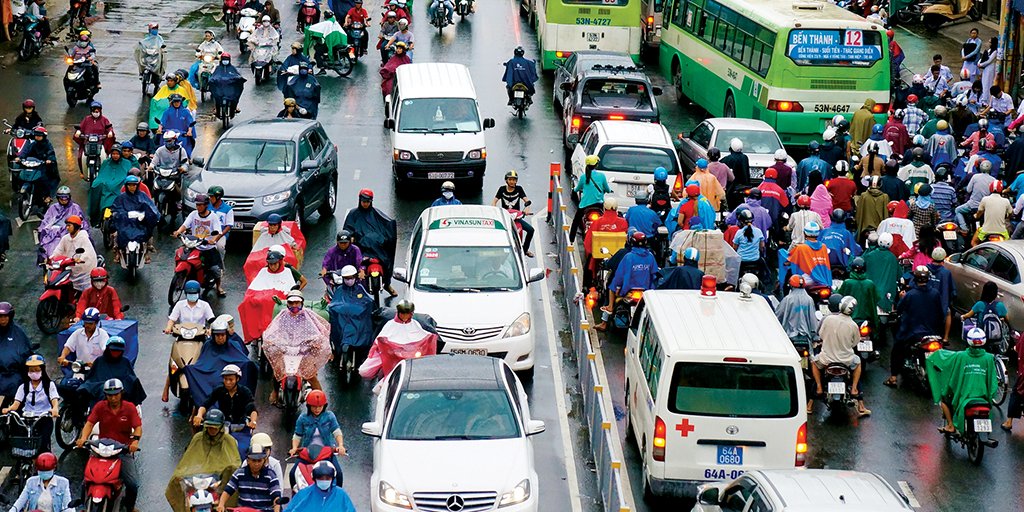 "In developing countries like Vietnam,

we don't have the technology or data

centers in place to track the congestion

problem," says An Mai, a researcher and

data scientist at John von Neumann

Institute, Vietnam National University,

Ho Chi Minh City, Vietnam.

Mr. Mai completed a pilot project in

December for Vietnam's government

to demonstrate the value of investing

in tracking technologies, including road

sensors and urban camera networks.

As

part of the project, his team built an app

to track GPS data from mobile devices

(phones and tablets) and existing local

data from cameras in the city center as a

way to monitor congestion.

He hopes to leverage the results

of the pilot to secure US$120,000 per year

in more government funding and scale up

the concept to gather continuous data

throughout Ho Chi Minh City and other

Vietnamese cities.

Vietnam's Challenge

A government-backed pilot project could kick-start new

traffic patterns in the country's largest city.
ISTOCKPHOTOCity streets in developing coun- tries are often more congested than those in developed nations. But existing datainfrastructure and funding to supportdecongestion projects in Vietnam andplaces like it are lacking."In developing countries like Vietnam,we don't have the technology or datacenters in place to track the congestionproblem," says An Mai, a researcher anddata scientist at John von NeumannInstitute, Vietnam National University,Ho Chi Minh City, Vietnam.Mr. Mai completed a pilot project inDecember for Vietnam's governmentto demonstrate the value of investingin tracking technologies, including roadsensors and urban camera networks. Aspart of the project, his team built an appto track GPS data from mobile devices(phones and tablets) and existing localdata from cameras in the city center as away to monitor congestion."The biggest challenge we face is get-ting the budget," Mr. Mai says. His teamrelied on government funding to cover theUS$10,000 cost of building the app andstandardizing the data. The money alsosupported building an automated systemthat can track traffic, create a heat mapwith red zones to denote congestion andrecommend the best driving routes totravelers. But with limited public fundsavailable, most team members workedfor free to build the proof of concept."The idea is that if people know wheretraffic is, they will use another route," Mr.Mai says. He hopes to leverage the resultsof the pilot to secure US$120,000 per yearin more government funding and scale upthe concept to gather continuous datathroughout Ho Chi Minh City and otherVietnamese cities.Vietnam's ChallengeA government-backed pilot project could kick-start newtraffic patterns in the country's largest city.


@PMInstitute: Vietnam experiments with a #BigData pilot #project aimed at cutting congestion. #PMNetwork
Share this page with a friend

Save to "My Stuff"