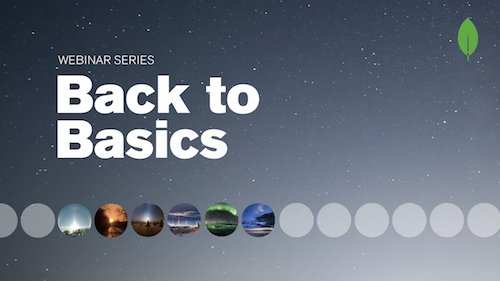 Back to Basics: Introduction to MongoDB (From an Introduction to NoSQL to Production Deployment)
Part 1: Introduction to NoSQL Part 2: Your First MongoDB Application Part 3: Schema Design Thinking in Documents Part 4: Advanced Indexing, Text and Geospatial Indexes Part 5: Introduction to the Aggregation Framework Part 6: Production Deployment
In the 6-part series, Joe Drumgoole, Director of Developer Advocacy EMEA at MongoDB will walk you through everything you need to know to get started with MongoDB. From an introduction to the different types of NoSQL databases to deploying MongoDB in production, this series will equip you with the skills you need to build your next giant idea with MongoDB.
If you're ready to solidify your MongoDB skills, register for a free MongoDB University course.
To navigate to a specific section, use the playlist icon on the left side of the player window.
Please submit this form to view the presentation.
In this 6-part series, Joe Drumgoole, Director of Developer Advocacy EMEA at MongoDB will walk you through everything you need to know to get started with MongoDB. From an introduction to the different types of NoSQL databases to deploying MongoDB in production, this series will equip you with the skills you need to build your next giant idea with MongoDB.

@MongoDB: Watch our Back to Basics series for a comprehensive intro to #NoSQL and #MongoDB:
August 29, 2016

In this 6-part series, Joe Drumgoole, Director of Developer Advocacy EMEA at MongoDB will walk you through everything you need to know to get started with MongoDB. From an introduction to the different types of NoSQL databases to deploying MongoDB in production, this series will equip you with the skills you need to build your next giant idea with MongoDB.

In this series:

Part 1: Introduction to NoSQL

Part 2: Your First MongoDB Application

Part 3: Schema Design Thinking in Documents

Part 4: Advanced Indexing, Text and Geospatial Indexes

Part 5: Introduction to the Aggregation Framework

Part 6: Production Deployment

All parts are available on demand. To navigate to a specific section, use the playlist icon on the left side of the player window.

If you're ready to solidify your MongoDB skills, register for a free MongoDB University course.

Find out more
Back to Basics: Introduction to MongoDB (From an Introduction to NoSQL to Production Deployment)